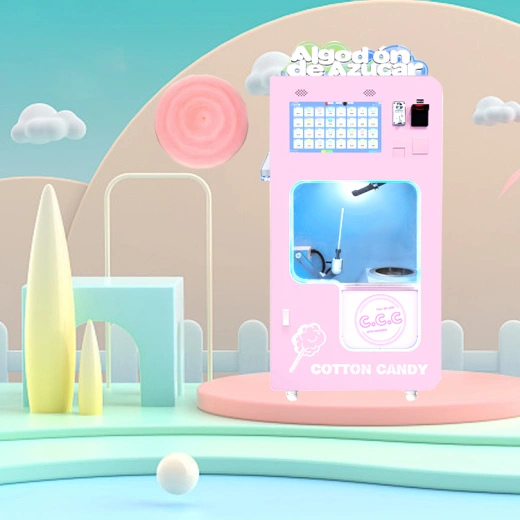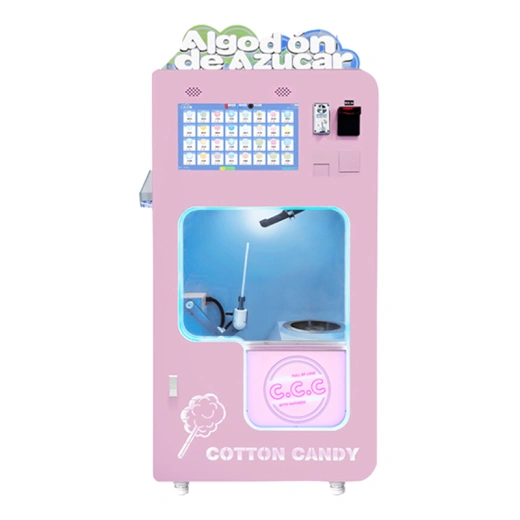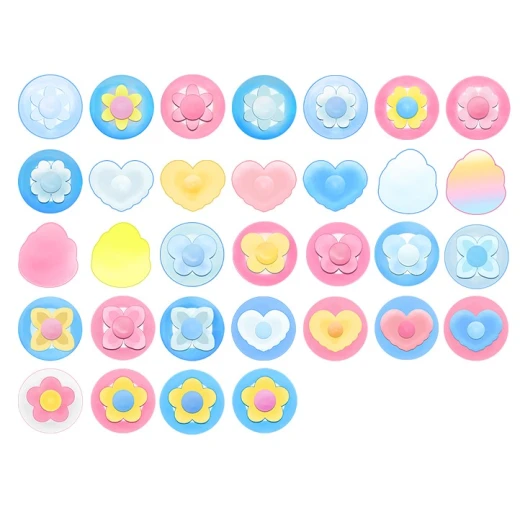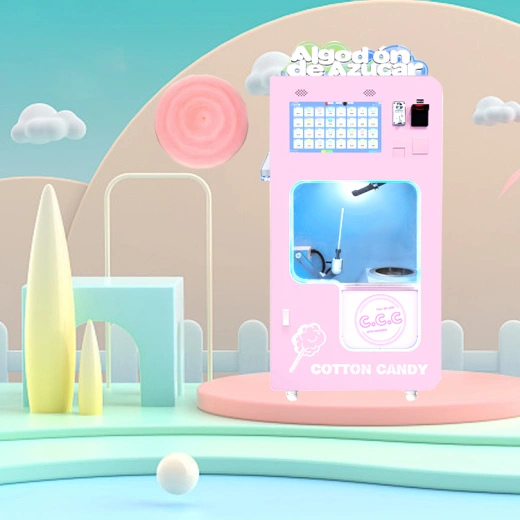 Full Automatic Commercial Cotton Candy Vending Machine DIY Candy Floss Vending Machine for Sale
CC960
Country of Origin:
Guangzhou
Make cotton candy like a pro with our full automatic cotton candy machine. Perfect for commercial use and DIY projects.
US $5699.00 - US $6699.00
/ set
Our Commercial Full Automatic Cotton Candy Machine is the perfect addition to any business or DIY project.
With its easy-to-use interface, you can start spinning cotton candy in no time. The machine is designed to produce fluffy, delicious cotton candy in a matter of seconds.
It's perfect for carnivals, fairs, parties, and other events.
The machine is also great for DIY projects, allowing you to create your own unique flavors and designs.
The machine is made of high-quality materials, ensuring durability and longevity. Its compact size makes it easy to store and transport.
Get the perfect cotton candy every time with our full automatic cotton candy machine.
Invest in one today and watch your profits soar!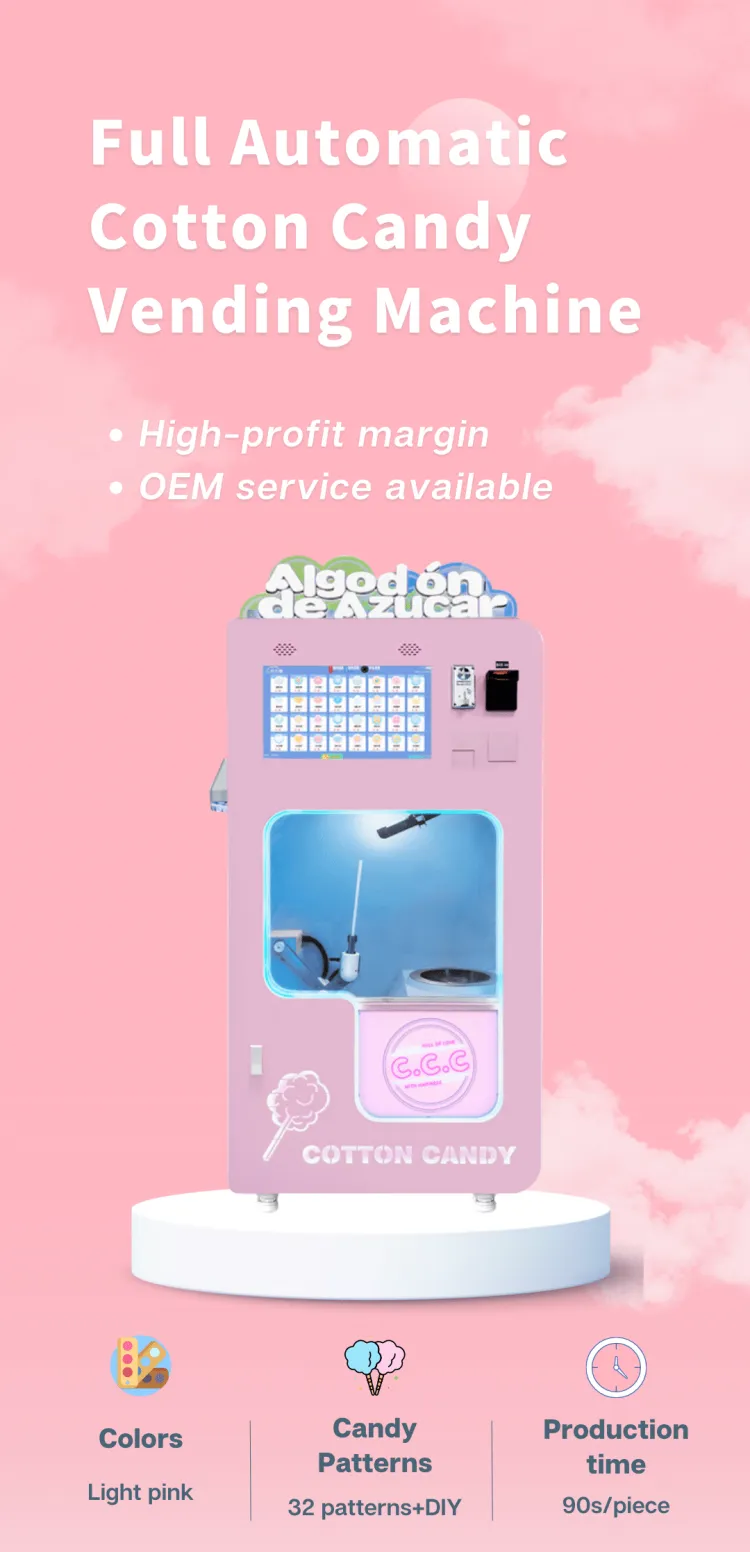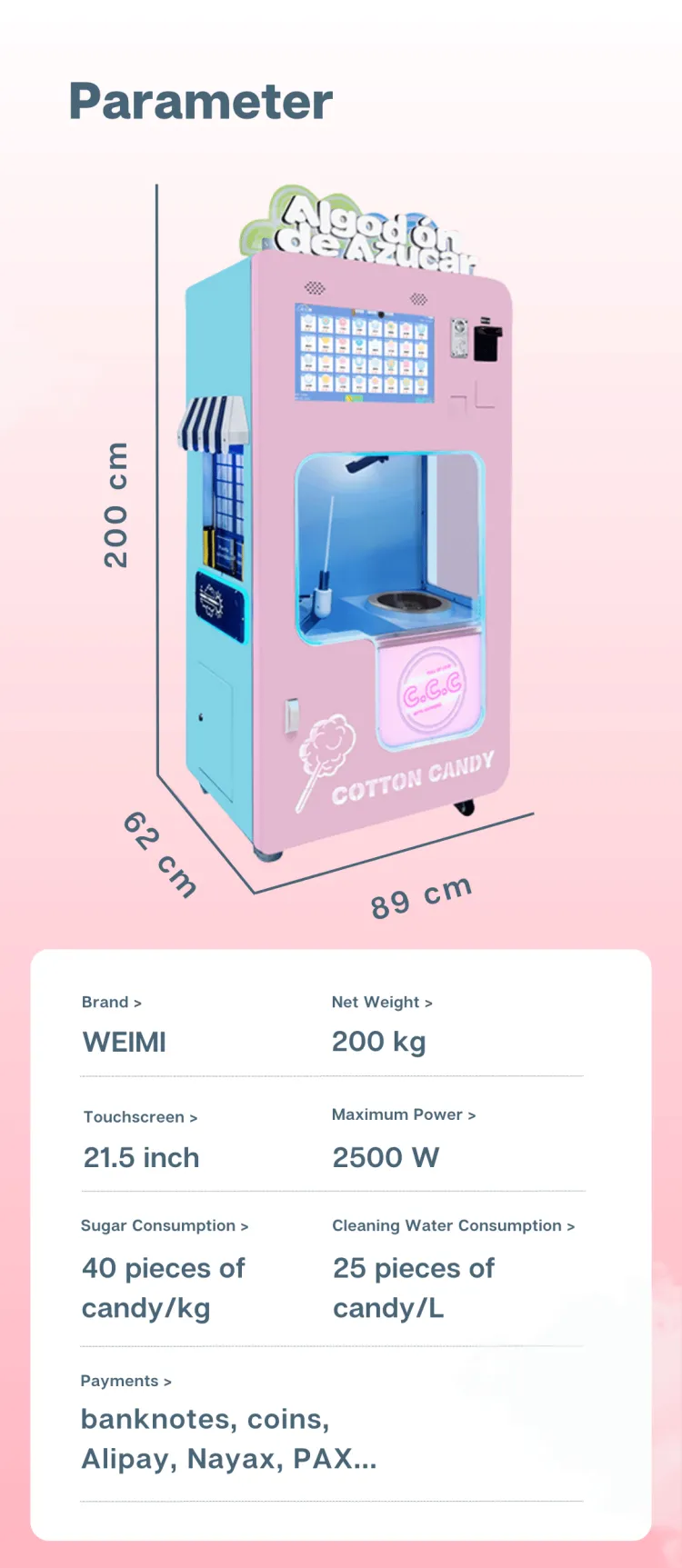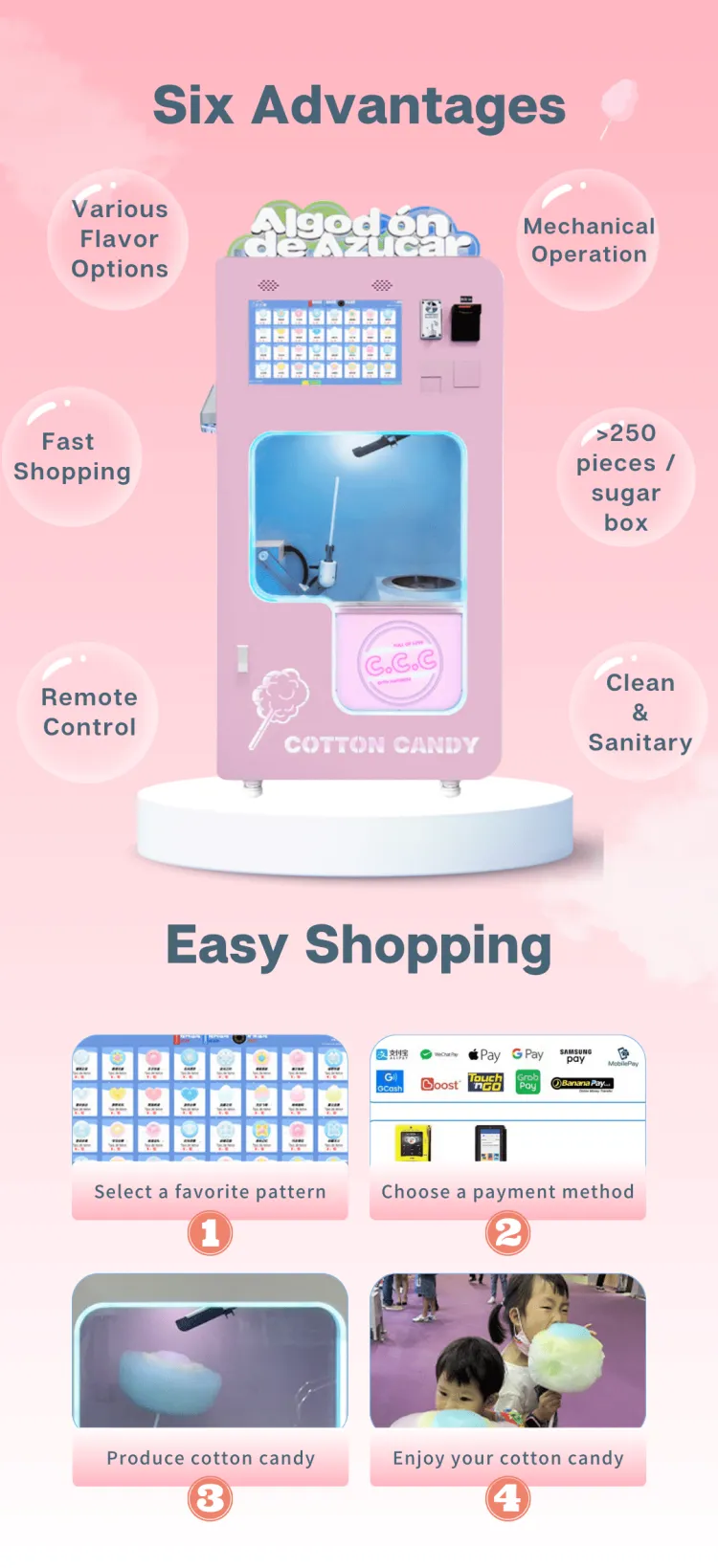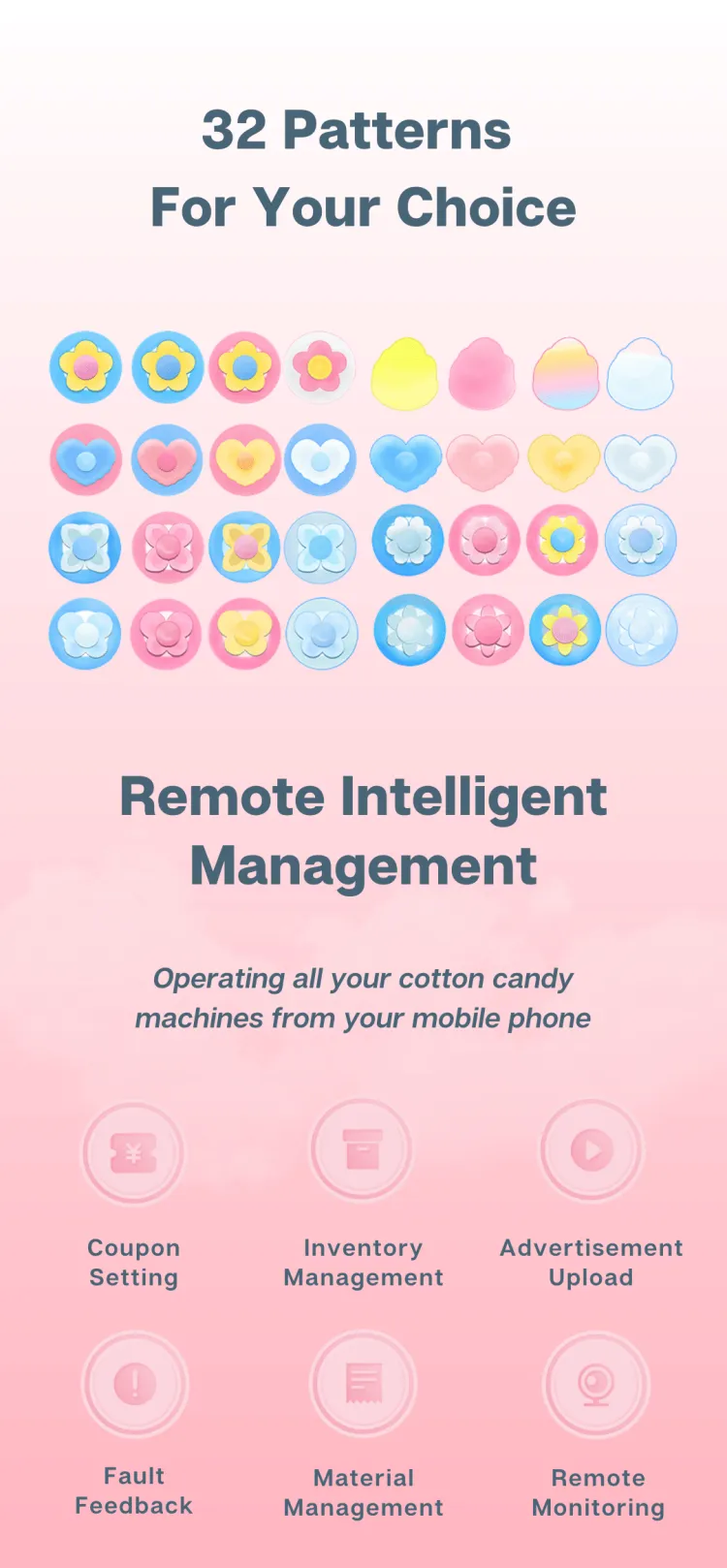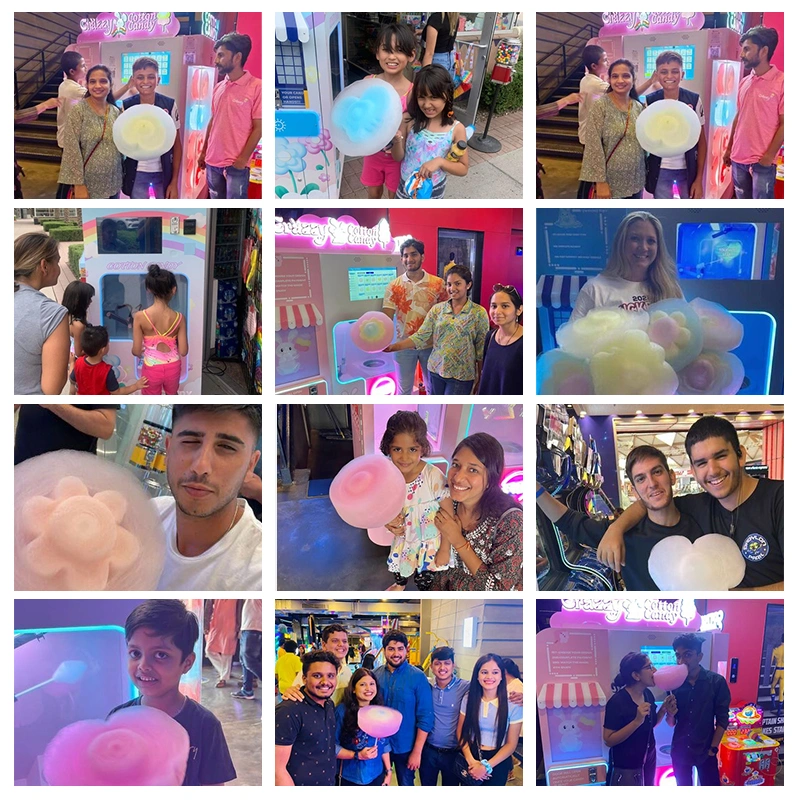 ---
FAQs
1. How does the machine operate?
Customers choose a specific candy pattern.

They make a payment through their preferred payment system.

The machine initiates the production process.

After 90~110 seconds, customers can retrieve their candy and enjoy!
Select; Pay; Produce; Deliver.
2. What is the recommended operational approach?
Typically, our clients purchase 2~3 machines to be placed in malls or other high-traffic locations.

Once you have established a steady income and become familiar with the operational procedures, we can proceed with bulk orders.

For larger orders that can be accommodated in a 20GP or 40GP container, we provide distributor discounts and assistance to help you expand your business scale.
3. What are the consumables utilized by the machine?
Sugar Requirements: The machine requires sugar with a diameter of 1.2~1.7 mm, which should be dry and free of powder. It supports four flavors and colors: White (Milk), Yellow (Orange), Red (Strawberry), and Blue (Hami Melon).

Paper Stick Requirements: The machine requires paper sticks with a length of 300 mm and a diameter of 10 mm.

Water Requirements: The machine utilizes ordinary drinking water.
4. Am I required to use your consumables?
No, it is not mandatory. You have the option to utilize your local supply chain to source consumables that meet the specified requirements mentioned earlier.

Initially, we recommend using our consumables, and we offer a free starter package to help you begin operations while allowing you sufficient time to explore and locate local alternatives.
5. What is the frequency of consumable refills?
The frequency of consumable refills depends on your sales performance. The more products you sell, the quicker you will deplete your materials, necessitating more frequent replenishment of the machine.
The machine can be loaded with 8KG of sugar and 260 paper sticks.

A fully-loaded machine can produce 260 cotton candies.

As a general guideline, we recommend refilling the machine every 3 to 4 days. You can conveniently monitor the status of the materials through our cloud system using your computer or smartphone.
6. What is involved in the maintenance process?
Machine maintenance primarily includes refilling sugar, paper sticks, and water, as well as emptying the wastewater tank. Additionally, it entails cleaning the heating burner and window glass.

The purpose of maintenance is to ensure the machine remains clean and enhance consumer interest. We recommend performing maintenance simultaneously while refilling consumables.

To assist you, we provide a maintenance video that guides you through the process. The total maintenance time typically takes less than 15 minutes.
7. Are you capable of providing OEM services?
Absolutely! We offer the option to customize the machine stickers, logos, lightboxes, and language according to your requirements, and this customization is provided at no extra cost. Please note that the production time may be extended by 1 to 3 days to accommodate the customization process.
8. How long does it take to receive the machine?
The machine is usually manufactured within a production time of 10-15 days.

If you require customization, please allow an extra 1-3 days.

Once the machine is ready, shipping typically takes around 30 days. Taking these factors into account, you can anticipate receiving the machine in approximately one and a half months.
9. What is the warranty coverage for the machine?
We provide a one-year warranty for the machine. Additionally, our technical support is available throughout the lifetime of the machine.

Rest assured that we utilize high-quality components from reputable imported brands, eliminating concerns about operation.

In the event of any issues, we will promptly send exchange parts directly to you, saving time and allowing for continued stable operation. There is no need to return the faulty part before receiving a new one.

To further ensure your smooth operation, we also provide additional spare parts and consumables free of charge.
---
Contact us
Email: nate@micronvending.com
Whatsapp: +8613826225189
Skype: nate.ye2
WeChat: 13826225189