Can vending machine sell alcohol? How can I find alcohol vending machine?
author: Ben
2023-01-09
Alcohol vending machines can deliver a wide range of alcohols such as beers/wine/spirits and soft drinks to customers while offering a great flexibilit and convenience in the liquor retail business.
Alcohol vending machines offer the potential to relieve busy bar staff at busy periods and therefore avoid possible loss of sales. This arrangement would be particularly effective where there are predicted peak periods or where there are intense periods of demand e.g. during intermissions in a concert performance etc. Alcohol vending machines are also useful to supplement normal bar arrangements at music festivals, sports festivals and the like.
Today I'm gonna introduce two alcohol vending machines to you.
The first one is the red wine vending machine. This machine has a specially designed built-in elevater with special slots, with which the red wines bottles could be caught and pushed into the lift and then delivered to the retrieval door stably. The machine can hold up to 105 bottles of red wines of 750ml and of course the loading capacity can be expanded to more if red wines of small size be sold in it.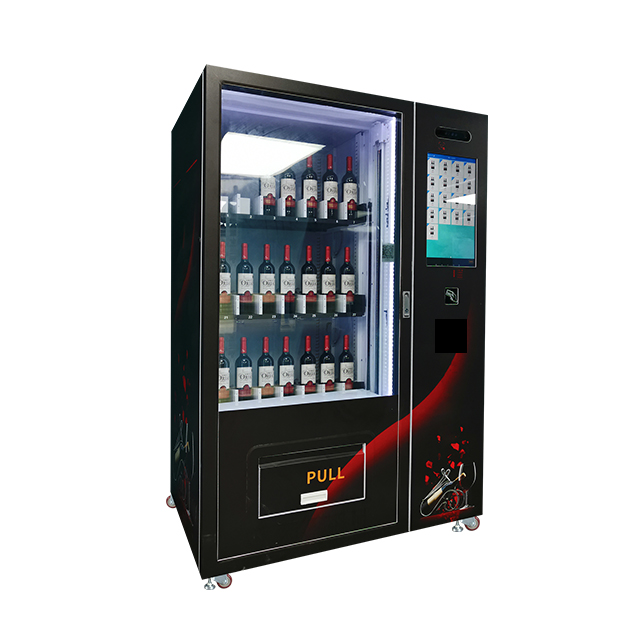 The second machine has a more stylish looking and a bigger loading capacity while the overall body is even smaller than the first one. Unlike the up and down lift of the first one, this machine is equipped with a XY axis built-in elevator which is more like a robot delivery arm. This kind of lift runs faster and delivers more stably, as products are gently pushed and will slide smootly into the elevator when they're finished purchasing. Unlike most of the conventional vending machines, the retrieval door of this kind was built in the middle body of the machine and it's fully automatic, which greatly facilitates the grabbing process and makes sure that shoppers don't have to bend down to push the door and take out what they buy.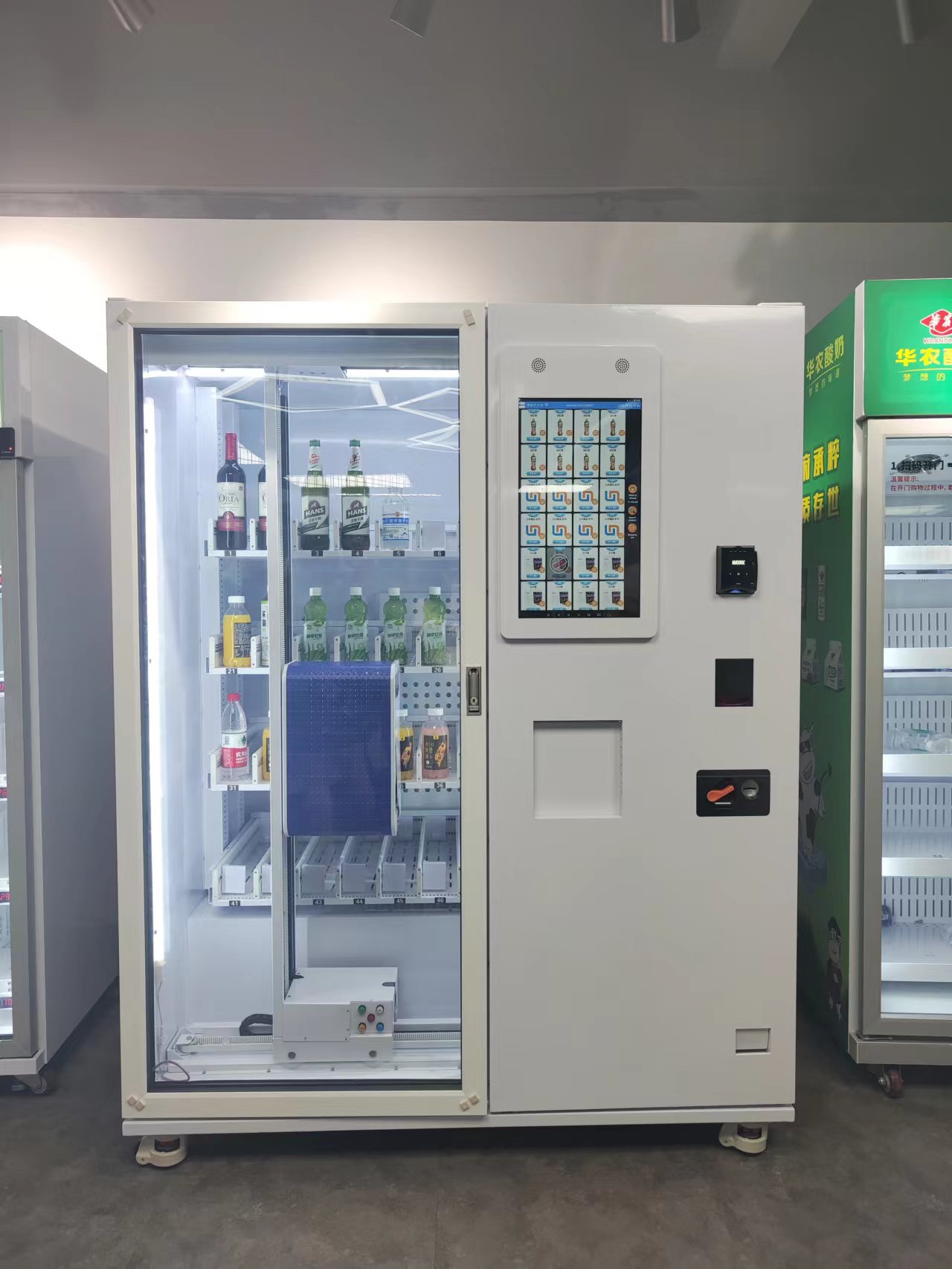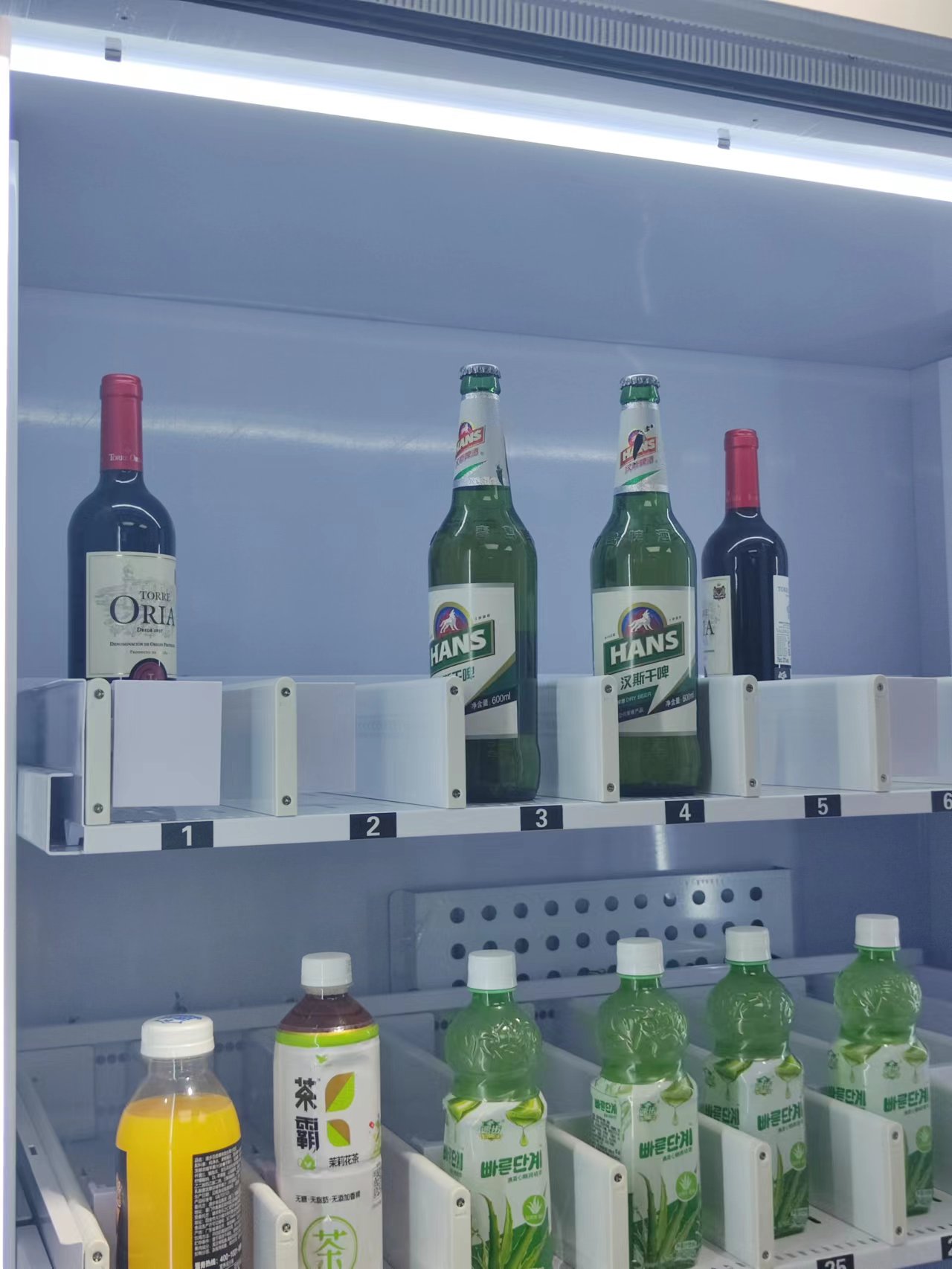 Both the machines comes with a 22'inch high definition interactive inferface, which can display advertisments when the machine is idle and can show more details of the products when shoppers browse their alternatives. The high quality content of the advertisment can easily draw shopper's attention into what the vending machine operator wants to promote to them.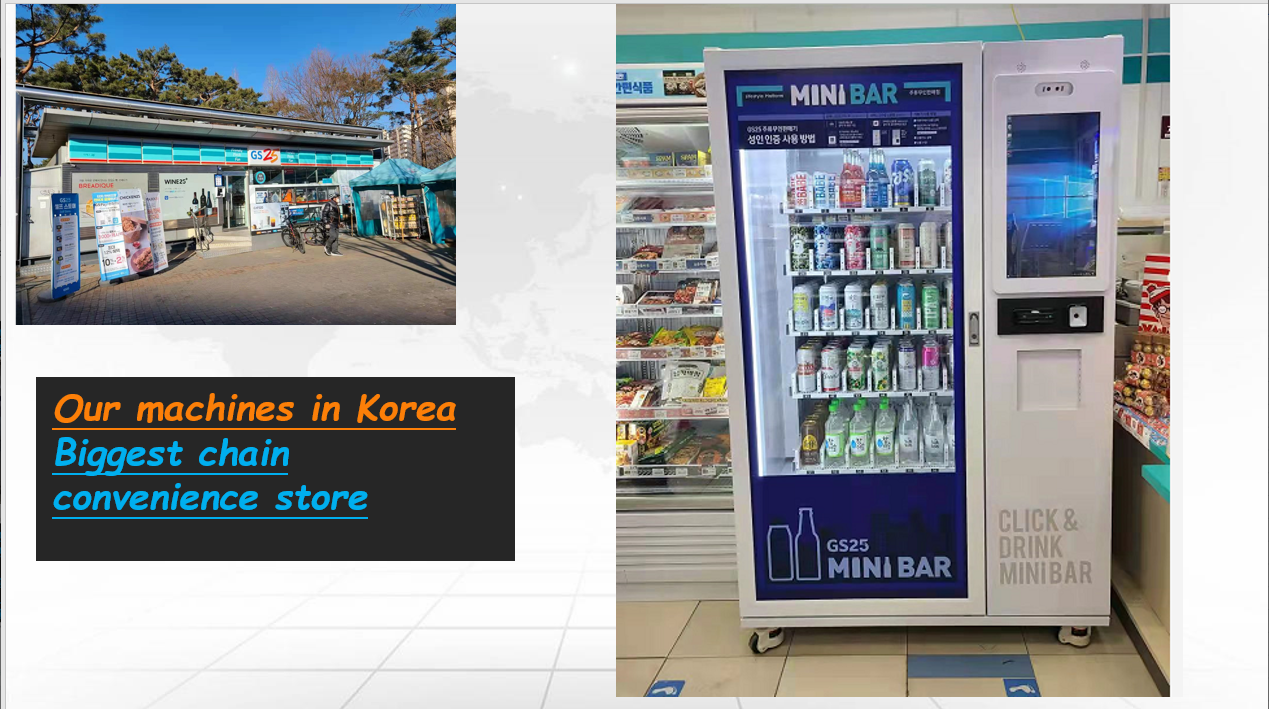 The only restriction of starting alcohol vending machine business is that owners/users of alcohol vending machines must comply with prevailing alcohol licensing legislation, which may limit when and how and to whom alcohol can be sold. Typically, alcohol vending machines would be suited to bars and night clubs where over 18 only age restrictions apply, but they could also potentially be located in more open environments where the use of high-end system controls are used (i.e. in hotel, pub or nightclub locations). It is important that prior to purchase, customers establish with their local licensing authorities, that alcohol vending machines are suitable for the environment concerned. And we have a solution to go around that by installing a driver liscens/passport/ID card scanner on the machine to verify shopper's age before they're allowed to make any purchases.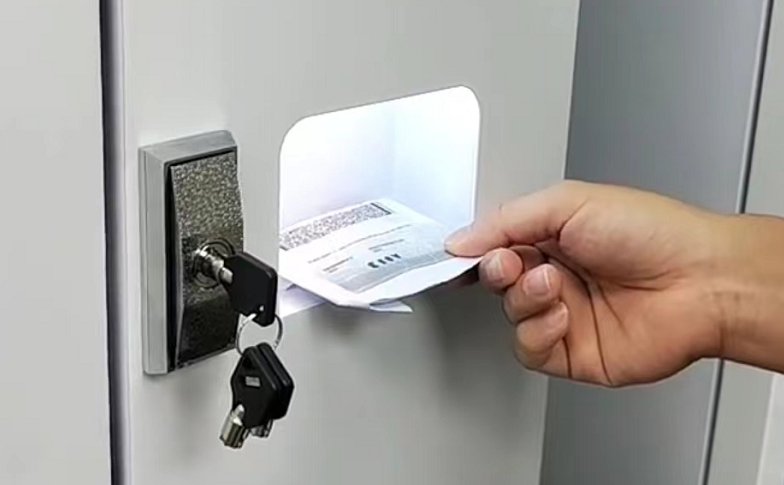 (Scan 

driver liscens/passport/ID card before buying

)
Our alcohol vending machine is digitally controlled by our Amazon Cloud base VMS (Vending Management Software) that enables you to monitor sales & inventory, receive alerts & stock warnings, and update product images, descriptions and prices, upload advertisement remotely. Click to learn more about our VMS: 
//www.smart-vendingmachine.com/Micron-Smart-Vending-software-is-the-best-among--other-vending-machine-exporters-in-China.html
They inlude free lifetime tech support and a 1-year warranty on parts. No matter what issues you might encounter with your machines, we will solve your problems within 48 hours. Free spare parts will be sent out to you by air within three days for replacement should an issue arise.
We're able to brand machines with a company design or logo that provides added benefit from a marketing perspective, a well designed alcohol vending machine can contribute significantly to overall theming and presentation within a sales environment.
If you're interested in alcohol vending machine business, contact us for a professional vending machine proposal.
Contact person: Ben
Phone number: +86 18802083463
Email: ben@micronvending.com