Fresh flower vending machine
2022-11-30
24-hour convenience stores are at your fingertips, which can satisfy our hungry stomachs and emergency needs at any time. But have you ever thought that even in the middle of the night when all bouquet stores are closed, you can always buy fresh bouquets from vending machines whenever you need them?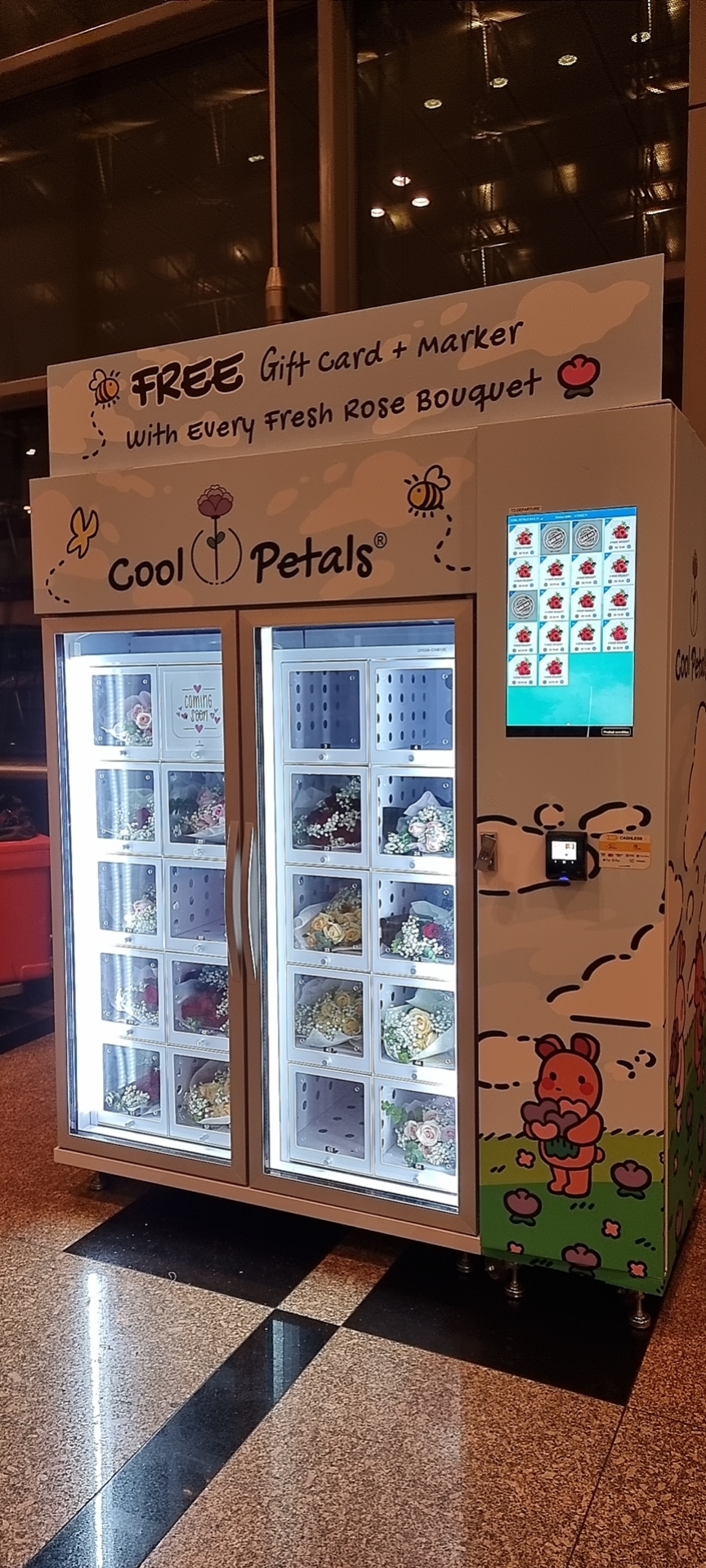 click here to know more about this machine
Vending machines generally sell food and beverages, daily necessities, blind boxes, etc. in the eyes of the public. But the newly unveiled flower vending machines have refreshed the public's stereotyped impression of vending machines.
With the advancement of technology, you can now sell almost any product you can imagine in a smart vending machine.
Cool Petals is one of our customers in Singapour, aiming to provide the freshest flower products in every important corner of Singapour, and has recently expanded their business model through energy-driven smart vending machines. The advanced smart flower vending machine accepts cashless payment and has an interactive interface that can be used to play advertising videos to better market and promote the product and the brand.
click here to know more about this machine
Behind the transparent window of the locker vending machine, bouquets of flowers with different themes are placed. The vending machine has a cooling system to keep the flowers fresh, the seller replace the flowers every day or every two days to ensure that the flowers in the vending machine are always fresh. The flower bouquet vending machines operate 24 hours a day, providing customers with the freshest flower products anytime and anywhere. The purchase process is simple and quick, just select the bouquet you like in the locker number on the screen, pay, and you can take out the bouquet after the locker is unlocked.
Have an unmanned intelligent vending machine to run your business can bring more extra income to your business. Smart vending machines driven by energy-selling platforms provide more possibilities for machine owners, operators, and consumers.  Additionally, some interesting features that can be applied to flower vending machines include promotional code features, code redemption features, interactive games, and more. Micron Smart Vending's interactive user interface can also support a variety of interactive content, including advertising videos and product image displays, to attract the public to visit the vending machines. The Multiple Product Detail Images feature allows multiple images to be displayed on the product page, allowing users to better understand the overall product details.
click here to know more about this machine
What Micron Smart flower vending machine includes?
Micron Smart Vending flower vending machine includes free lifetime tech support and a 1-year warranty on parts. No matter what issues you might encounter with your machines, we will solve your problems within 48 hours. Free spare parts will be sent out to you by air within three days for replacement should an issue arise.
Flower vending solutions from Micron Smart Vending can help your businesses drive efficiency, save costs, improve profitability and deliver a good customer experience. To learn how our vending solutions can help you, please contact:
Export manager: Ben
WhatsApp: +86 18802083463
Email: ben@micronvending.com