Smart fridge provides 24/7 healthy food availability
author: Ben
2023-01-12
People have come to expect fresh and healthy food on-demand, whether it's being brought to your home by restaurant-delivery companies or prepared-meal companies. The demand for the easy access to the fresh and healthy ready meals in work places, airports, train stations and campus are specially high. Some startups like Farmer's fridge and Alvo have started their massive operation as of 2019 and occupied a number of locations across the US by deploying their smart fridges stocking with fresh food. Even the tech giant Amazon is actively engaging in the development of unattended retail technology and deeply involved in conquering the self-service food industry with their Amazon Go Store technology.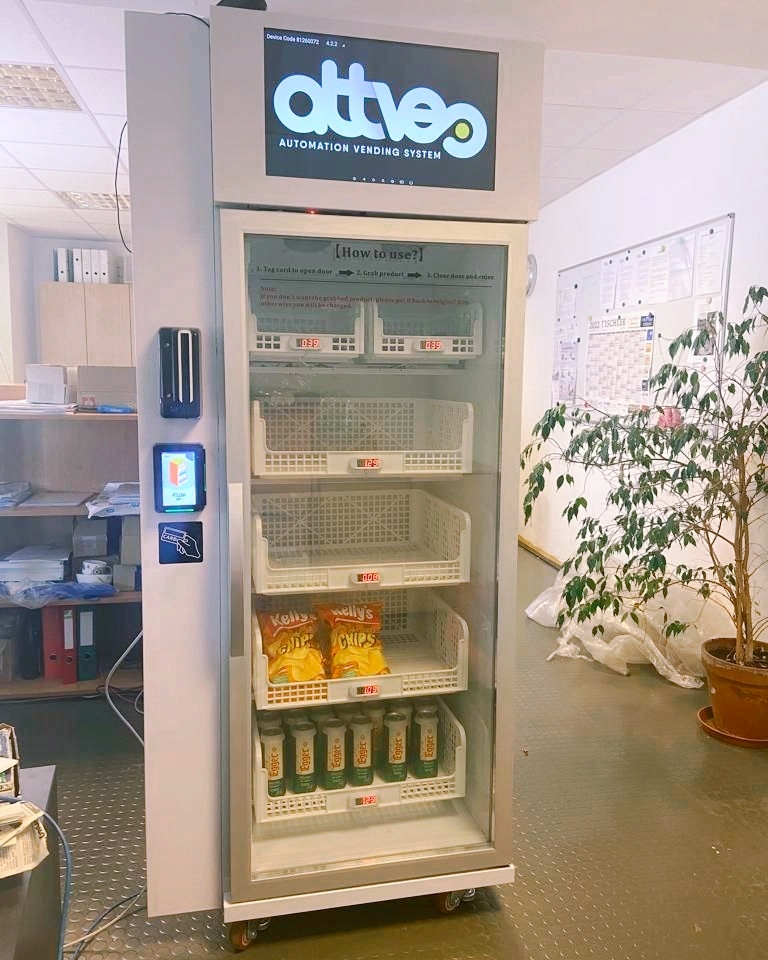 click here to learn more about the vending machine
Why chefs and restaurants should consider using smart fridges to vend prepared food?
If you're a restaurant owner, a freelance chef or a food caterer, you know exactly how do you go about your day.
Not every day's performance is all up rose, even the best businesses face temporary lulls in income. But the chefs or the restaurants will have a way to go around this by deploying the smart fridges to get their handmade prepared meals or healthy selections to people while the restaurant is closed, and to cater to people outside of their areas. Smart fridge vending machines don't require excessive labour except to do occasional restocking. Smart fridges are definitely something of a hidden gem within the food service industry. The income they bring can be surprising. A dish of fresh ready meal costs on average $8 US dollars and over 100 dishes can be stocked in a single door smart fridge.
You
'
re tapping a good potential to make at least
 $
500
sales
each day
 including the food waste
, that's almost another $
15
,000
extra sale
 for your business
 in every month.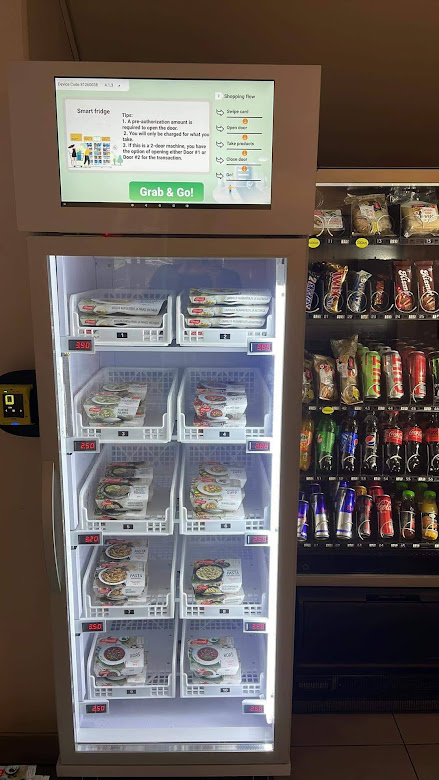 click here to learn more about the vending machine
What can smart fridge help with its unattended retail technology?
Smart fridge vending machines from WEIMI Technology can stock a widely diverse array of fresh meal solutions including dinner meal kits, lunch boxes and healthy bentos that consumers can access by running a credit card. But access is just the start, as the smart technology allows all the products inside the machine to be picked up, examined and put back anywhere and in any order. The fridge knows what's missing when the door is re-closed and charges only the items taken to the credit card.
The technology not only aligns with the needs of the modern flex-hour workplace but also with institutional settings such as hospitals and colleges where hunger pangs and meal opportunities don't always conform to traditional cafeteria hours.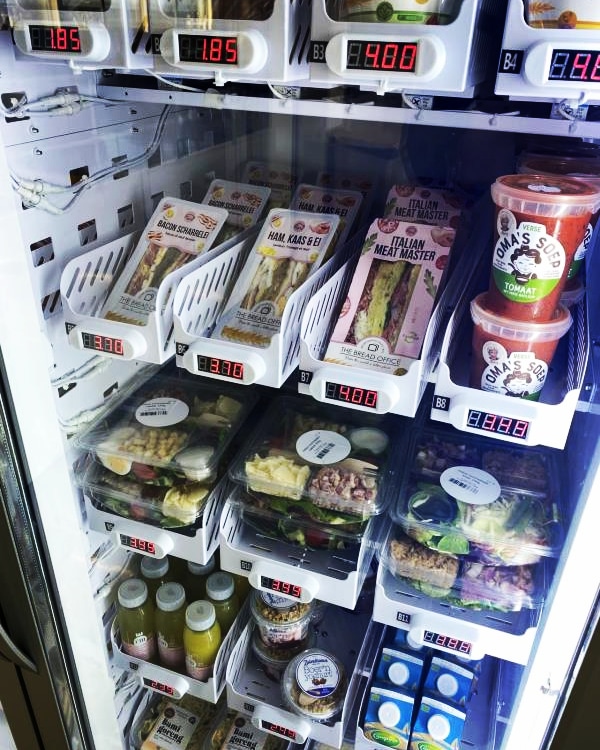 click here to learn more about the vending machine
What are the ideal locations for smart fridge to vend prepared ready meals?

Customarily, locations with high traffic in a secure environment are perfect for deploying smart fridge vending machines, such as airports, train stations, office buildings and so on. But workplaces are considered as the next big retail opportunity since there are hundreds of thousands of offices across the U.S and Europe that are looking for fresh food and have no options right now, such as factories where line workers only have a very time limited meal break and they don't all rush to the cafeteria to jump in queue to buy food because that wastes a lot of time. In other environments, the smart fridges can be placed in break rooms, vending niches or snack/coffee station areas as an extension of the cafeteria, or they can be the exclusive onsite dining option in venues lacking a café or sufficient population to justify one without a subsidy.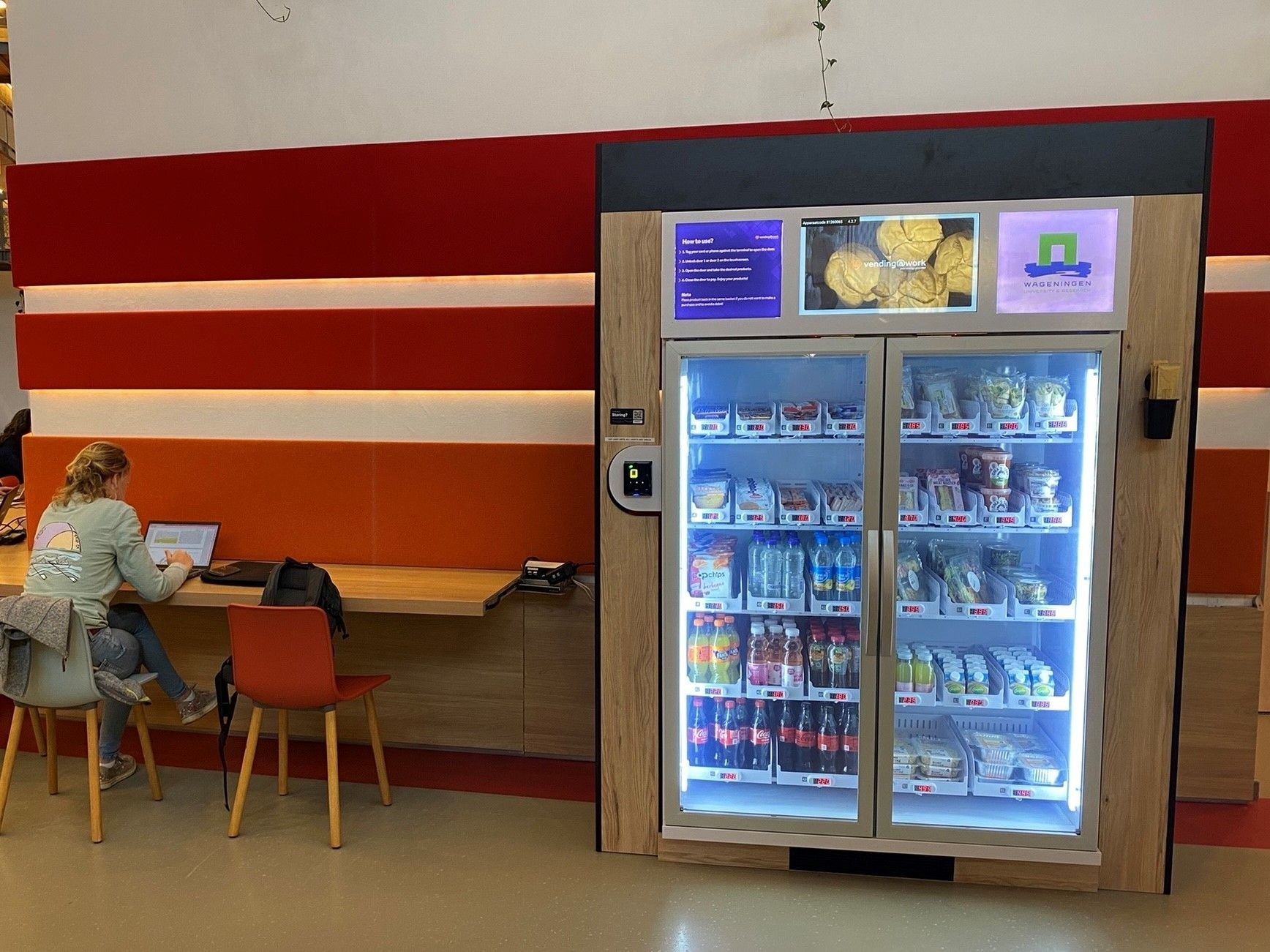 click here to learn more about the vending machine

What's the difference between smart fridges and a micro market?

Unlike micro markets, the smart fridge vending machines don't require a separate space or a highly secure environment, they can go in smaller and more open areas in institutions like hospitals and colleges.

How does the smart fridge work to be specific?

The smart fridge comes with a Nayax or Pax card reader as the only accessible payment method. When consumers shop on a smart fridge, they're only required to tag or swipe their debit or credit card, open the door and go. When the card touches the card reader, USD50-100 will be frozen as the pre-authorization to unlock the fridge. Shoppers can take whatever they want from the shelf once the door opens, and those pre-priced items would be detected by the sensors when they're picked up and would be charged automatically when shoppers close the door. The smart fridge is working with the weight sensing technology with every weight sensor installed on the bottom of each goods tray. The accuracy of the weight detection is up to 99.5%, with a slice difference of +-10g.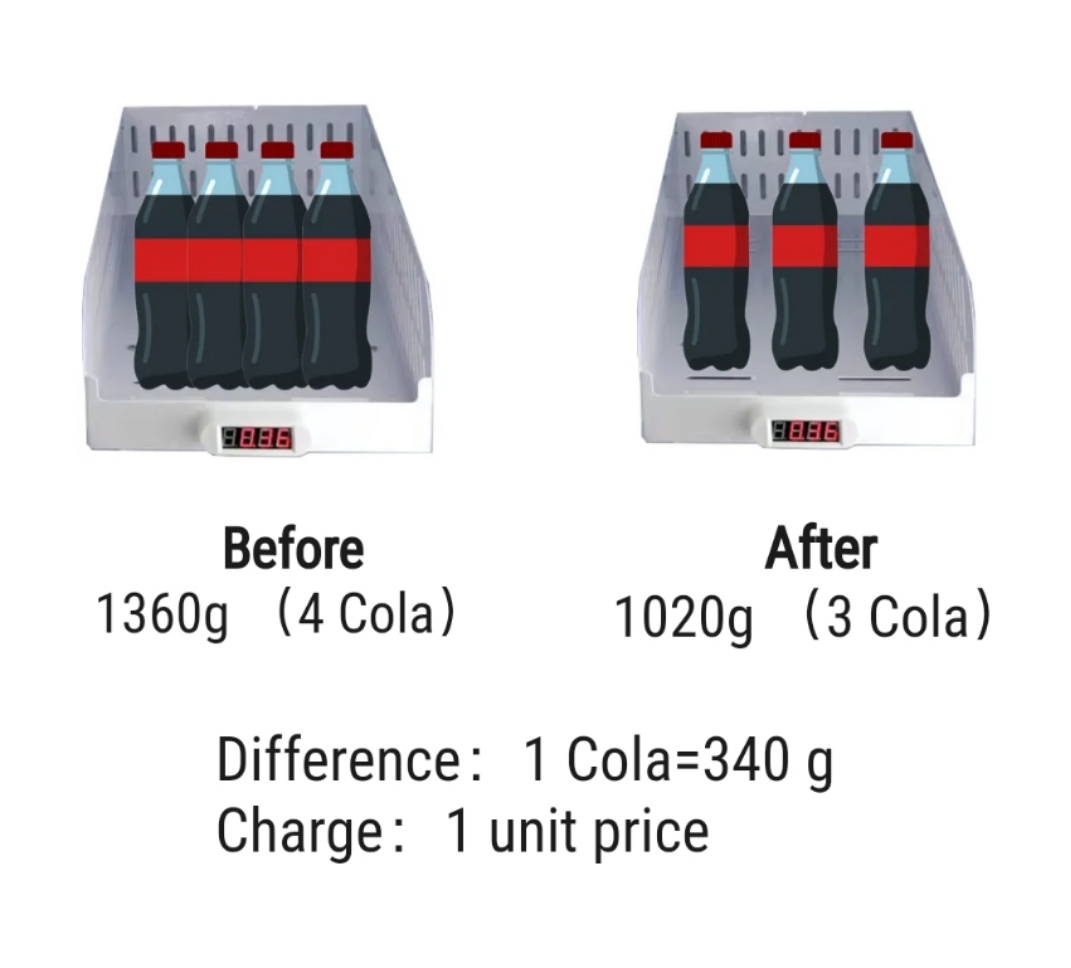 How many dishes can a smart fridge stock?

The single glass-fronted smart fridge has 5 trays by standard, which typically stocks around 120 products at a time. A double door smart fridge can hold double that. The trays can be customized to different sizes and different material according to specific demands and needs.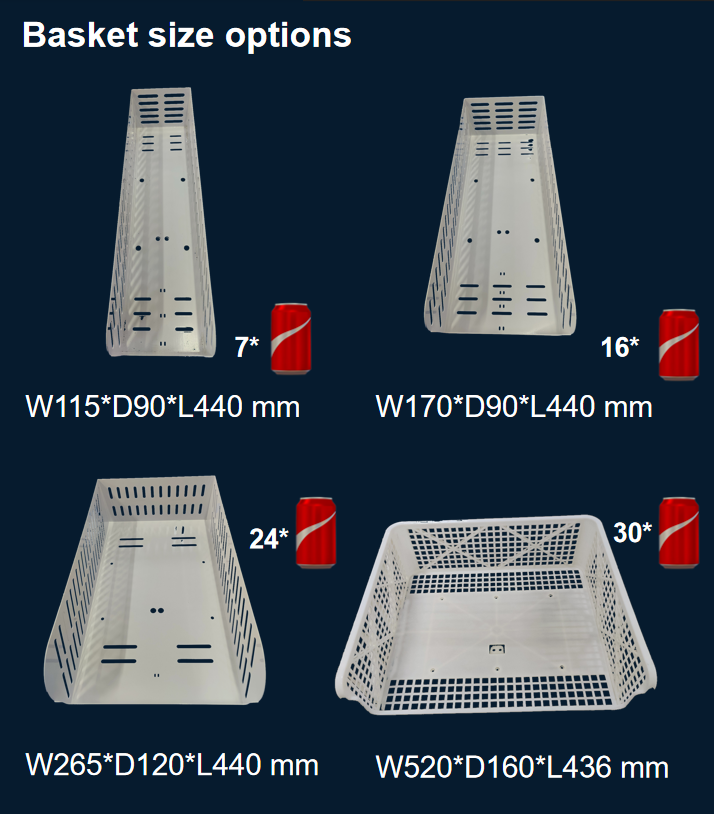 What's the advantages of a smart fridge over the conventional vending machines?

1.Saving space. Unlike the conventional vending machine, a single door smart fridge only covers an area of 0.5 square meters, which only is half that of a conventional vending machine.
2.Stocking more products. Smart fridge doesn't have cargo lanes but baskets, which allows it to stock more products compared to a conventional vending machine thanks to its more open space.
3.Costing less. You can get smart fridges between USD1800 and 2200 with a card reader while you need to spend USD2200 upwards for a conventional vending machine excluding payment methods.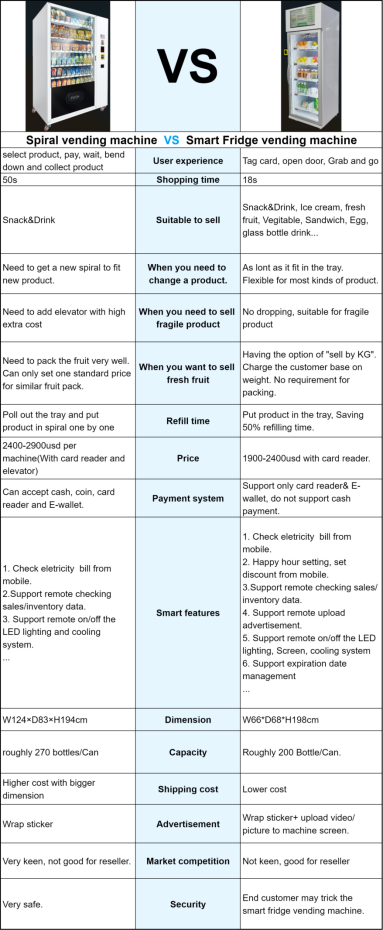 What are other features of a smart fridge?

The smart fridge come with a 22'inch high definition touch screen. The interface allows consumers to interact with the machine and learn more about the detail of each product sold in the refrigerator. Shoppers will be able to watch videos, read product descriptions, scan QR codes, and much more. Videos will play when the machine is idle to draw customers in. The touch screen also act as a good platform to advertise the products.

The temperature inside the refrigerator can be adjusted from below 18 to 20 Celsius degree remotely to always keep the food fresh.

The refrigerator also comes with the energy control feature which allows the operator to monitor the electricity consumption. On average, the machine consumes only 7-10 degree of electricity per day at full wing operation.

What's the smart software can empower the smart fridge operators?

WEIMI smart fridge vending machines are digitally controlled by our Amazon Cloud base VMS (Vending Management Software) that enables operators to monitor sales & inventory, receive alerts & stock warnings, and update product images, descriptions and prices, upload advertisement remotely. The smart fridge can send real-time information back to the operator so they know what and when they need to restock, which can be done either from an onsite kitchen if there is also a café operation onsite, or from a commissary kitchen that serves multiple locations.

Click the link below to know more about what's WEIMI vending software.
//www.smart-vendingmachine.com/Micron-Smart-Vending-software-is-the-best-among--other-vending-machine-exporters-in-China.html


What do WEIMI smart fridges include?

WEIMI smart fridge includes free lifetime tech support and a 1-year warranty on parts. No matter what issues you might encounter with your machines, we will solve your problems within 48 hours. Free spare parts will be sent out to you by air within three days for replacement should an issue arise.

Browse the link below to know about our after sales policy.

//www.micronvending.com/If-I-import-vending-machine-from-China-what-if-the-machine-malfunctions.html
 
Final thoughts

Vending machine operators are going to need to find a way to stand out from the crowd as competition for sales and profit is going to be higher than ever. Expanding the current business into self service food vending can be a break through point to this.

So what are you waiting for?

Contact me for a smart fridge vending proposal.

Export manager: Ben
WhatsApp: +86 18802083463
Email: ben@micronvending.com