Will clothing vending machines become big in the future?
2022-11-18
When suddenly entering the freezing cold airport, only to find that your miniskirt is not capable of warming your cold legs?
Just before boarding the plane, you're shocked to find from the news that the place you're going to was sent pigeons by the typhoon. It was embarrassing to have a box of long sleeves clothes.
When you encounter with a flight delay of at least two hours, why not do some shopping in the airport in these hours?
Recently, Uniqlo opened their branch in the airport in the United States. However, this branch is a bit small, so small that it only occupies the position of a vending machine.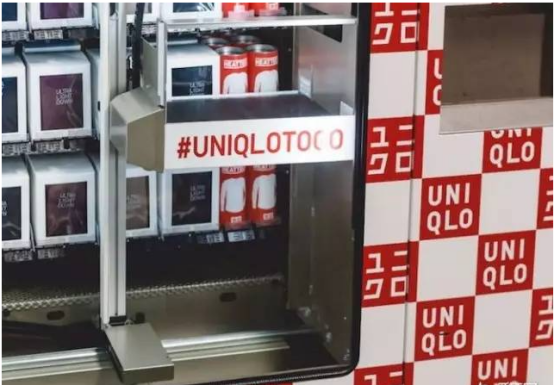 The Uniqulo to Go vending machine is about 1.8 meters high. There are clothes to choose behind the glass front. Shoppers choose the style, color and size of the clothes on the touch screen. The retrieval door is the same as a normal vending machine, with a bang, the clothes will be in your hands. It's a great option for travelers that didn't check the weather forecast, or forgot something at home. The packaging of the vest is minimal, and it seems to take up very little space, so it's different from simply shopping at a clothing shop in the airport. These essentials are truly traveler-friendly.
Being able to sell clothes in such a limited space as a vending machine, of course, benefits from the convenience of Uniqlo's clothes. Even down jackets can be stuffed into palm-sized nylon bags, of course there is no problem at all that other coats and T-shirts can be packed in cans. The main products sold by Uniqulo to Go, such as ultra-thin down jackets, thermal insulation pullovers, T-shirts, etc., are suitable for business trips and do not require special matching and try-on clothing. Of course, the $15-$70 or so is a bit of a let-down, and even if the clothes are not that fitting, it's always fun to get a t-shirt in a coke can in an airport vending machine.

In addition to the confirmed Oakland Airport and Houston Airport in California, Uniqlo has also decided to place 8 machines in crowded places such as train stations, playgrounds, movie theaters, and commercial centers. This way of shopping opens up new markets.
Vending machines, a popular shopping method in the more densely populated East Asia, are gradually becoming popular in the United States, and in consumer products other than cola, chocolate and biscuits.
What Micron clothing vending machine can do?
Micron clothing vending machine comes in twins and combo size, giving a huge space for stocking from t-shirts, down jackets to vests. It comes with a Ultra definition touch screen from 22'inch to 55'inch. The interactive touch screen allows shoppers to interact with the machine and learn more about each product you're selling. Shoppers will be able to watch videos, read product descriptions, scan QR codes, and much more. Videos will play when the machine is idle to draw your customers in. The touch screen also act as a good platform to advertise your products and brand image. The cargo lanes can be customized according to the product size, there are spring spiral, conveyor belts and direct push cargo lanes to choose.
Our clothing vending machines are digitally controlled by our Amazon Cloud base VMS (Vending Management Software) that enables you to monitor sales & inventory, receive alerts & stock warnings, and update product images, descriptions and prices, upload advertisement remotely. Click to learn more about our VMS:
//www.smart-vendingmachine.com/Micron-Smart-Vending-software-is-the-best-among--other-vending-machine-exporters-in-China.html
Here are our unique clothing vending machine series for you.
Features&specifications

55'inch touch screen twins model

55'inch touch screen combo model

Click here to know more about this vending machine

Dimensions(L*W*H)

W223×D83×H194cm

W138×D83×H194cm

Average capacity

240-360 items

120-180 items

Custom configuration

Support

Support

Elevator delivery

Yes

Yes

Conveyor rows

Yes

Yes

Touch screen

Yes

Yes

Cashless payment system

Yes

Yes


Custom Machine Graphics

 

Yes

Yes
What do our clothing vending machines include?
Micron clothing vending machine includes free lifetime tech support and a 1-year warranty on parts. No matter what issues you might encounter with your machines, we will solve your problems within 48 hours. Free spare parts will be sent out to you by air within three days for replacement should an issue arise.
Final thoughts
Will the future of the retail be confined to vending machines? Probably not. But will more airports and malls consider adding clothing vending machines to their terminals? Probably yes!
If you're interested in putting up your vending machine business, contact us to get a professional proposal!
Export manager: Ben
WhatsApp: +86 18802083463
Email: ben@micronvending.com