USA: Smart Vending Machine for Haircare Eyelash
2023-09-19
In the ever-evolving world of retail, convenience, accessibility, and innovation are key factors driving consumer choices. In recent years, the beauty industry has witnessed a significant shift towards more convenient and efficient shopping experiences. One such innovative solution making waves in the United States is the introduction of smart vending machines for selling haircare products and eyelashes. These cutting-edge vending machines are transforming the way consumers access their favorite beauty essentials.
The Rise of Smart Vending Machines

 
Smart vending machines have gained immense popularity in the United States, offering consumers a seamless shopping experience. These machines are more than just traditional vending machines; they are equipped with advanced technology that enhances the customer's journey.
Benefits of Smart Vending Machines for Haircare Products and Eyelashes

 
1. 24/7 Accessibility: Beauty emergencies can strike at any time, and these smart vending machines ensure that customers have access to their favorite haircare products and eyelashes around the clock. Whether it's a last-minute date night or a morning beauty touch-up, these machines are always ready to serve.
2. Product Variety: Smart vending machines can stock a wide range of haircare products, from shampoos and conditioners to hair styling tools and accessories. Additionally, they offer a selection of popular eyelash brands and styles, catering to diverse consumer preferences.
3. Convenient Location: These vending machines can be strategically placed in high-traffic areas such as shopping malls, airports, beauty salons, and even college campuses, making them easily accessible to a broad demographic of consumers.
4. Contactless Shopping: In the wake of the COVID-19 pandemic, contactless shopping has become a necessity. Smart vending machines are equipped with touchless payment options, such as mobile wallets and credit/debit card readers, ensuring a safe shopping experience.
5. Product Information: These machines are designed to provide detailed product information, including ingredients, usage instructions, and customer reviews, helping consumers make informed choices.
6. Data Insights: Vending machine operators can gather valuable data on customer preferences and shopping trends, enabling them to optimize product selection and stocking levels.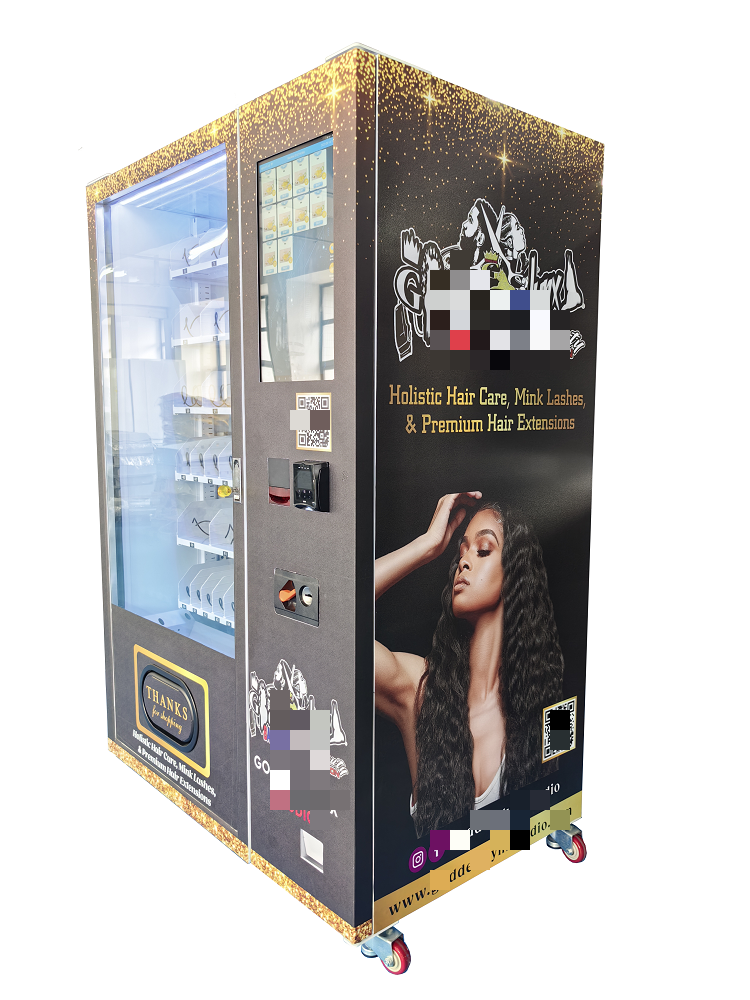 How Smart Vending Machines Work

 
 Smart vending machines use cutting-edge technology to provide a seamless shopping experience:
1. User-Friendly Interface: Customers interact with the vending machine through an intuitive touchscreen interface.
2. Product Selection: Shoppers can browse through the available haircare products and eyelashes, view images, read descriptions, and check prices.
3. Payment Options: These machines accept a variety of payment methods, including cash, credit/debit cards, and mobile wallets.
4. Product Dispensing: Once the customer selects their desired items and completes the payment, the machine dispenses the products.
5. Receipts and Feedback: Customers receive digital receipts, and they can provide feedback on their shopping experience through the machine's interface.
Meeting Consumer Expectations

 
Smart vending machines are not just a technological novelty; they are a response to evolving consumer expectations. Customers today seek convenience, accessibility, and personalized experiences. These smart vending machines are perfectly aligned with these expectations, offering a modern shopping experience that combines speed and accessibility with a wide range of product choices.
The introduction of smart vending machines for selling haircare products and eyelashes in the USA represents a significant advancement in the beauty retail industry. These machines offer 24/7 accessibility, a diverse range of products, and a contactless shopping experience. As consumer demands continue to evolve, smart vending machines are poised to play a pivotal role in reshaping the future of beauty retail. Beauty enthusiasts across the United States can now enjoy a convenient and hassle-free way to access their favorite haircare and eyelash products whenever and wherever they need them, all thanks to these innovative smart vending machines.