USA: Mini Wall-mounted Vape Vending Machine to the USA
2023-07-10
Mini Wall-mounted Vape Vending Machine with 21.5-inch touchscreen, age checker and card reader is going to be shipped to America.
Sleek and Compact Design: This vending machine boasts a modern and space-saving design, making it a perfect fit for any location. Its slim and streamlined body ensures it won't take up valuable countertop space or clutter shelves. With its compact size, you can effortlessly mount it on the wall, optimizing the use of your available area.
Secure Age Verification: Ensuring a responsible and safe environment, this vending machine is equipped with an advanced age verification feature. Only adults can access its contents, promoting compliance with regulations and upholding responsible usage of e-cigarettes.
Large Interactive Touch Screen: Immerse yourself in a seamless and interactive experience with the impressive 22-inch touch screen. Not only does it provide a user-friendly interface for smooth operation, such as multiple purchases and discounts, but it also serves as a dynamic platform for displaying captivating advertisements. Elevate the ambiance of various settings, including clubs, shopping malls, hotels, and more, with this cutting-edge touch screen display.
Intelligent Remote Management: Take control of your e-cigarette business effortlessly with the intelligent remote management system. Gain real-time insights and efficiently manage the machine from the convenience of your phone or any connected device. Stay informed about sales data, inventory levels, and performance metrics, empowering you to make informed decisions and streamline operations.
Customization for Brand Identity: Unleash your creativity and establish a strong brand identity with customizable design options. Personalize the vending machine to reflect your unique vision by adjusting its appearance, slot dimensions, or incorporating your own branding elements. This enables you to stand out from the competition, captivate your target audience, and reinforce your brand presence.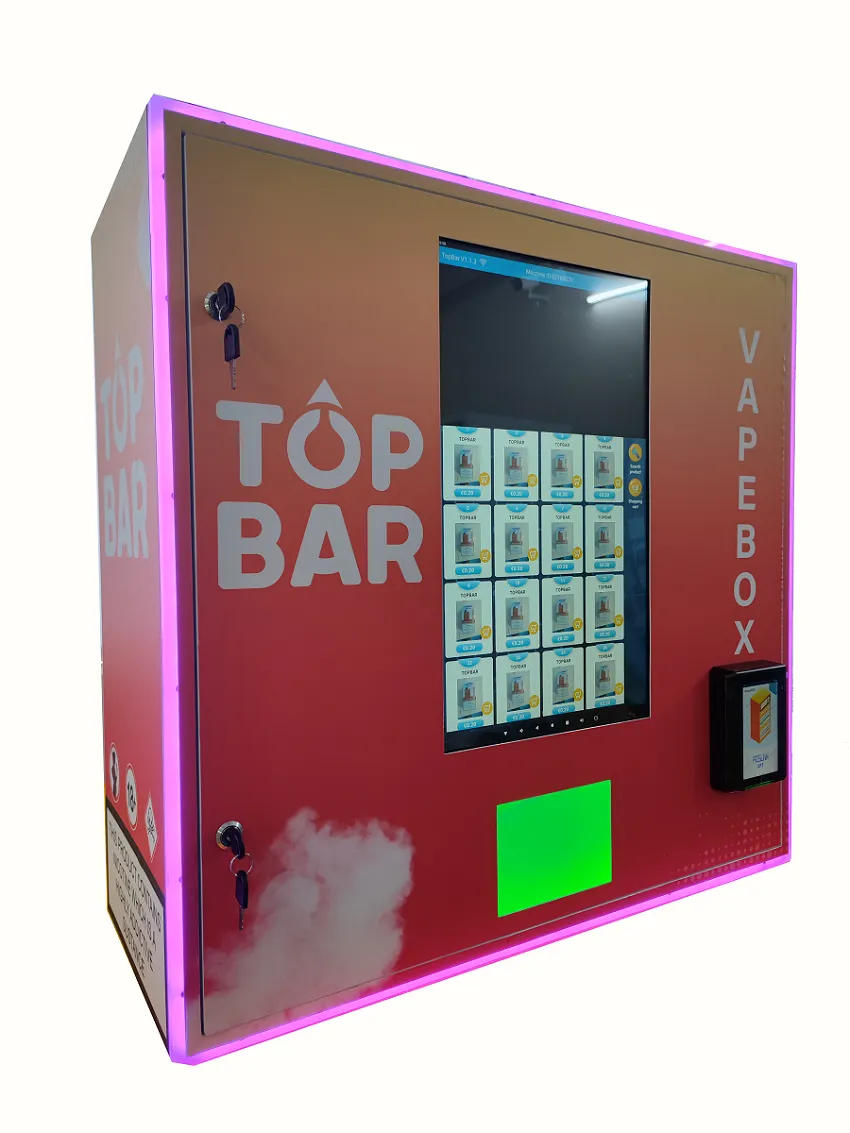 We are vape and vending machine one-stop supplier.
If you are interested in vape and vending machines, please contact us!
We help you expand your vape business.
---
About Us
China's NO.1 Smart Fridge Vending Machine Exporter
China's Top 3 Vending Machine Exporter
8 Years. Production experience
50 Countries. Exported to 50+ countries
30,000 Machines. In the field
16,000 ㎡. Production base
800 Machines. Monthly production capacity
For more information about us, please click this link.
---
Contact Us
Email: nate@micronvending.com
Whatsapp: +8613826225189
Skype: nate.ye2
WeChat: 13826225189